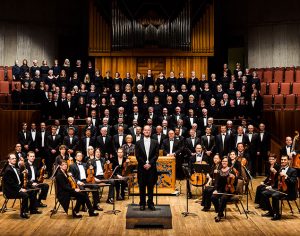 Recent performances with the Victoria Symphony include Beethoven's Ninth Symphony, Britten's War Requiem, Handel's Messiah, and Verdi's Requiem. Each year, the Victoria Choral Society also produces its own concerts with orchestra and soloists, most recently the world premiere of commissioned work Nocturno by Liova Bueno, Johannes Brahms' Schicksalslied, Jonathan Dove's The Passing of the Year, Felix Mendelssohn's Lobgesang, Knut Nysted's Immortal Bach, Rheinberger's Mass in C Major, and Vivaldi's Gloria.
The choir was created after 200 singers, representing most of the church choirs of the day in Victoria, assembled in 1934 to sing Messiah. They agreed to continue singing together to promote choral music – and so the Victoria Choral Union was born. The choir's name has since been changed to the Victoria Choral Society. The instrumentalists who played with the choir later formed the Victoria Symphony Orchestra.
This vibrant ensemble has flourished under the leadership of several well known music directors, including Giuseppe Pietraroia, Michael Gormley, Brian Jackson and Bruce More.